You Have BIG Goals for Your Business
We Have the Modern Strategies You Need to Achieve Them - Today
Giving Business Owners an Unfair Advantage
Join the #1 Community for Marketing Entrepreneurs and Agencies
Meet Your Business Growth Partner
Mandy McEwen
Our Founder and CEO, Mandy McEwen, has been helping businesses exceed their growth goals since 2007. Recognized as a Top 8 SEO Expert by Search Engine Journal and content marketing influencer by BuzzSumo, she has helped thousands of entrepreneurs and digital agencies grow by sharing the lessons she's learned in over a decade in the industry.
Agency
For a growing marketing agency, few things are worse than having to turn business away due to lack of expertise, personnel or time. Mod Girl® helps both new and growing agencies and marketing entrepreneurs succeed with powerful growth resources, including our free Mod Agency Insiders community. This community includes expert members like Jason Swenk and Karl Sakas who host Facebook lives with Mandy to offer powerful agency growth insights. We are a community of passionate marketing entrepreneurs helping each other grow and we'd love for you to join us! Apply to join Mod Agency Insiders here.
Healthcare
Patients are increasingly gravitating to the internet nowadays for more convenient ways to communicate with their healthcare providers. We help healthcare companies interact with their patients and prospects in a more modern way, all while increasing revenues with lead generation solutions.
Technology
The need for experienced consultants who understand how to help modern technology companies create, measure and sustain successful lead generation online has never been greater. We work with growing tech companies to provide powerful marketing consulting.
Mod Girl Marketing on Twitter
Our founder & CEO @MandyModGirl has an exciting announcement to share – exclusively for our #Facebook community, Mod Agency Insiders.
Apply to join our group of #mktg entrepreneurs today to tune in to the FB Live event: modgirl.social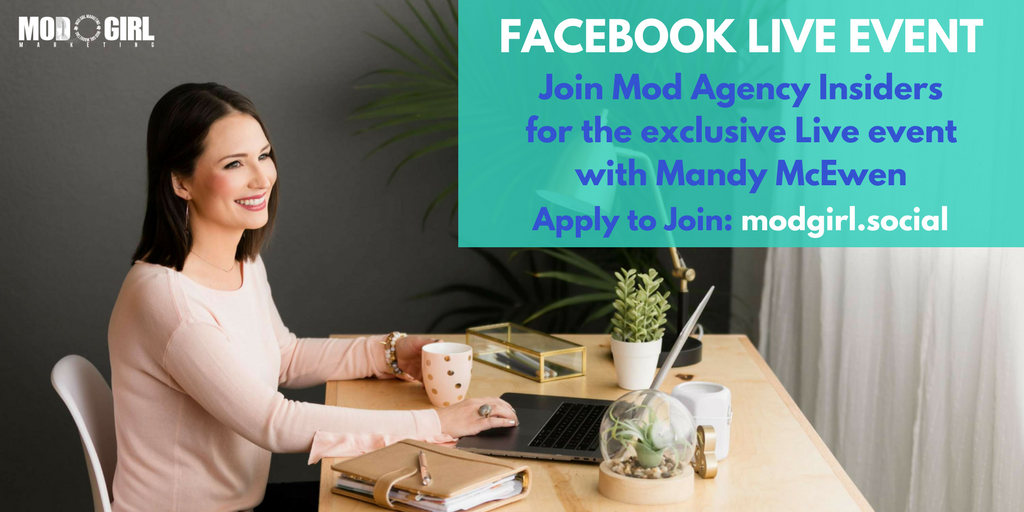 Recent Press Mentions
Mandy McEwen Named Top 10 Best Agency Growth Coaches for 2018
If you want to scale your digital agency, you can't do it all alone. Whether…
Read More
Struggling to Land Your Next Dream Client?
In our free Mod Masterclass Mandy reveals a powerful lead generation system that generates 5 – 8 leads a day withOUT advertising.