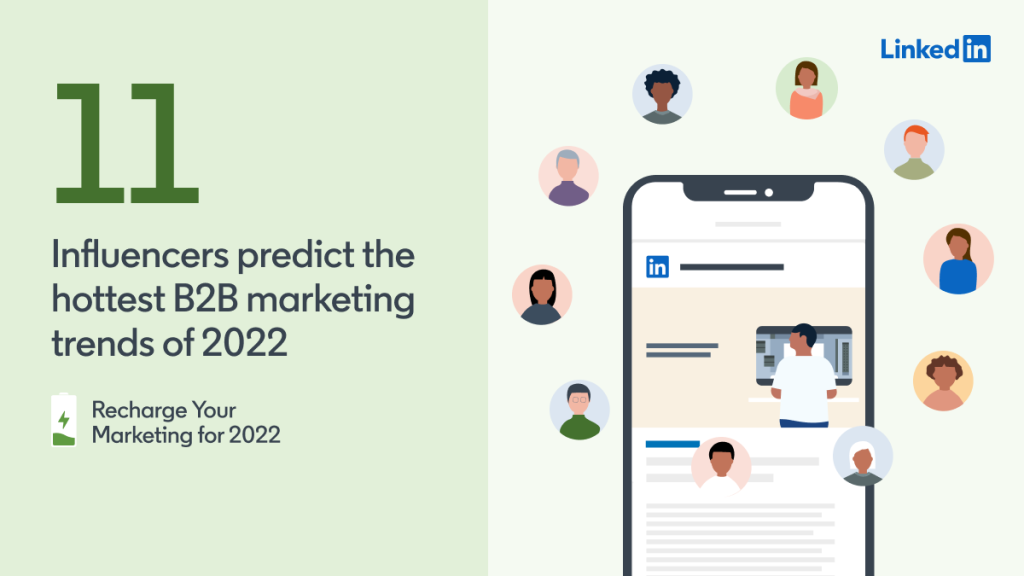 For all the bluster around marketing trends — they're talked about constantly, yet seem to come and go in a hurry — there is absolutely value in staying out front of them.
If your brand was already somewhat adept at video marketing before the pandemic struck, you were in position to better reach and engage your audience as lockdowns commenced. Those who've reached a state of maturity with marketing measurement are frequently enjoying higher budgets than those lagging behind in the vanity realm.
No one can predict the future, but sometimes anticipating what's next is more a matter of seeing the present — and where it's taking us — clearly. Visionary marketing leaders reach the levels they're at because they're really good at this. So we asked 11 of them where they are setting their sights as a new year arrives.
Capitalizing on the Top B2B Marketing Trends for 2022
Here's how top experts and influencers in B2B marketing recommend their peers adjust strategies to capitalize on these trends in the months ahead.
Support the Growing Entrepreneurial Spirit
"The pandemic woke a lot of people up from their mundane 9 to 5 jobs, and my prediction is that a record number of employees will quit by 2022. Any B2B marketing trend that focuses on targeting this group of solopreneurs will win big.
To help these new entrepreneurs, I suggest they build an email list from every single email address currently in their inbox so that they can hit the ground running. They can do that in just a few clicks with Email List Builder by cloudHQ." — Naomi Assaraf
[irp posts="13626″ name="How To Get More LinkedIn Leads With This Organic Strategy"]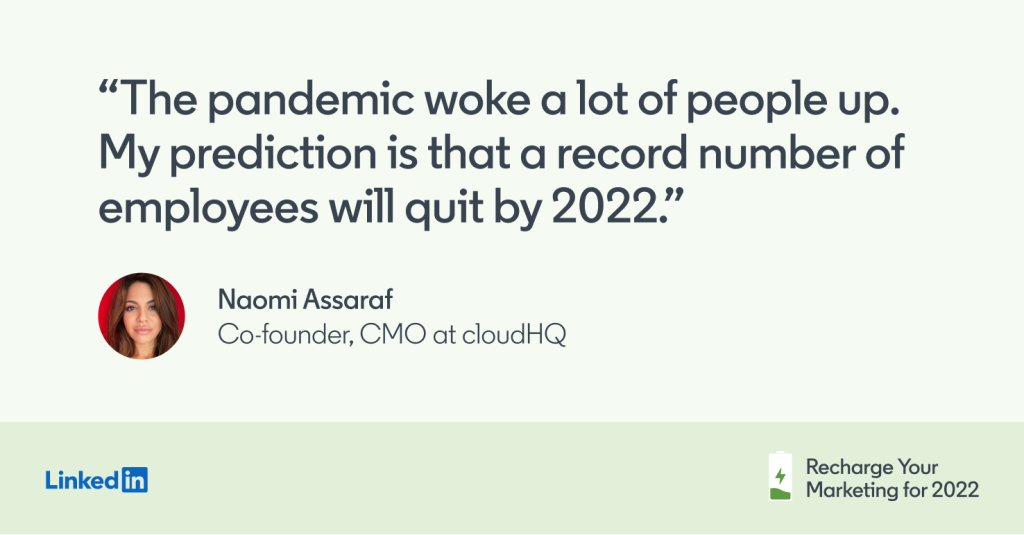 Marketing Content and Content Marketing Become One
"Prepare for the great merger of marketing content, content marketing, and content operations. Content is becoming a business strategy. Full stop. Copywriting, storytelling, measurement, AND structured content operations are becoming a single, functional strategy in B2B businesses. Content marketers will need to upskill into strategy, technology, and content structure. Content strategists will need to upskill into creative storytelling and thought leadership. And everybody will need to upskill into measurement design." — Robert Rose
Fend Off FOMO and Find Focus With New Tech
"There's so much new tech available that B2B marketers are getting FOMO: from social audio to NFTs to virtual reality, should we try them all? No. Allocate a fixed portion of your time and resources to evaluate new tech. The winners in 2022, though, will be those who stick to the basics: deeply understand your audience and give them things they didn't know they needed (but do need)." — Dennis Shiao
Give Your Audience Something Valuable (For Free)
"Give away some sort of free tool or software. Whether it is a freemium version of a tool or something as simple as a calculator for your space. For B2B marketing it is more effective for lead generation than creating text-based content." — Neil Patel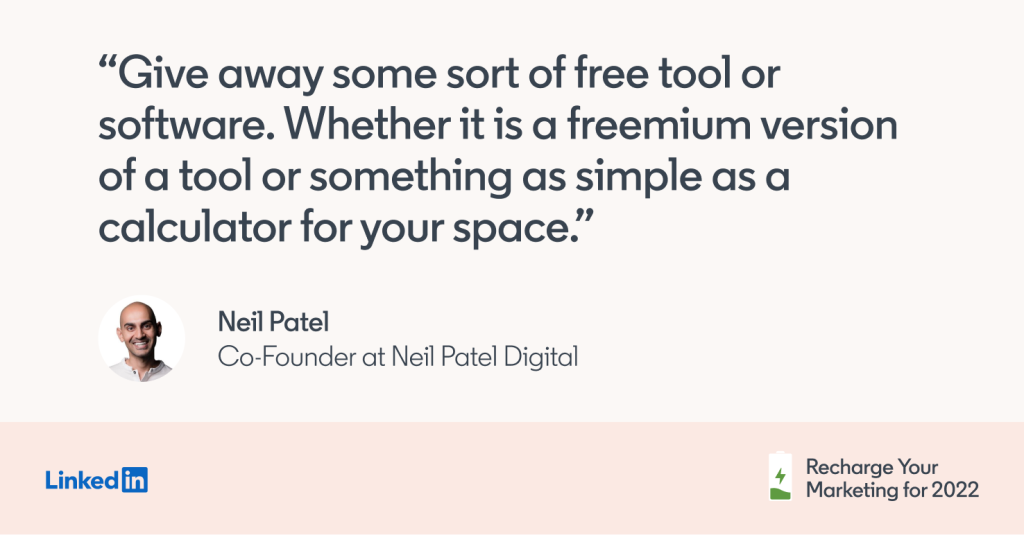 Move Beyond Text-Based Content
"In 2022 we will see B2B marketers broaden the scope of media content that they create. They will adopt remote content production methods that will allow them to create more multimedia content with higher quality and without falling back to traditional ways of creating content. More media, less in-person production." — A. Lee Judge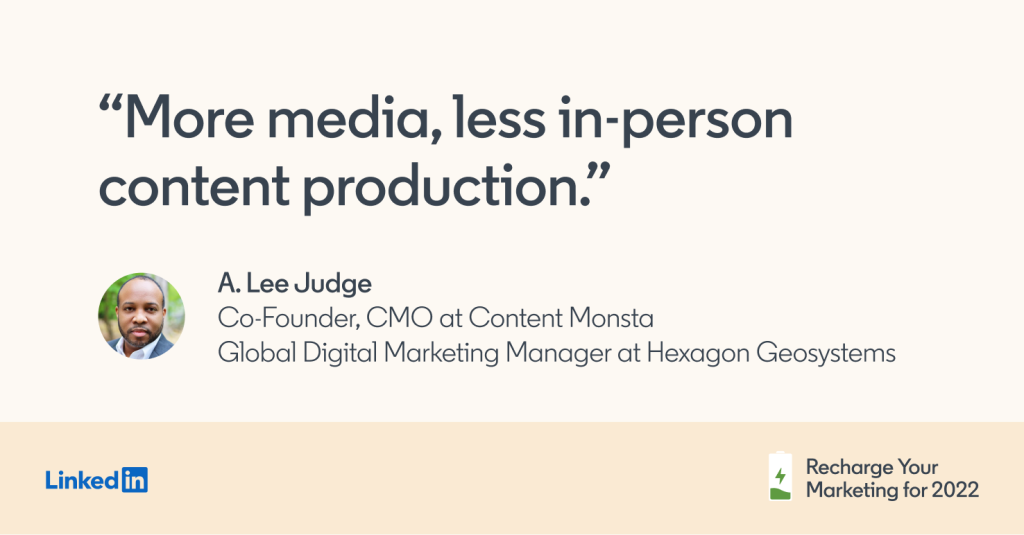 Bring Personalization to New Heights in Alignment With Customer Expectations
"B2B buyers expect B2C experiences. They want to feel like you understand them and care about them. In fact, a recent study from Salesforce found that 66% of B2B buyers expect vendors to personalize engagement to their needs. So in 2022 we will see more hyper-targeting and personalization. The adoption of AI tools will continue to accelerate personalized engagement." — Mandy McEwen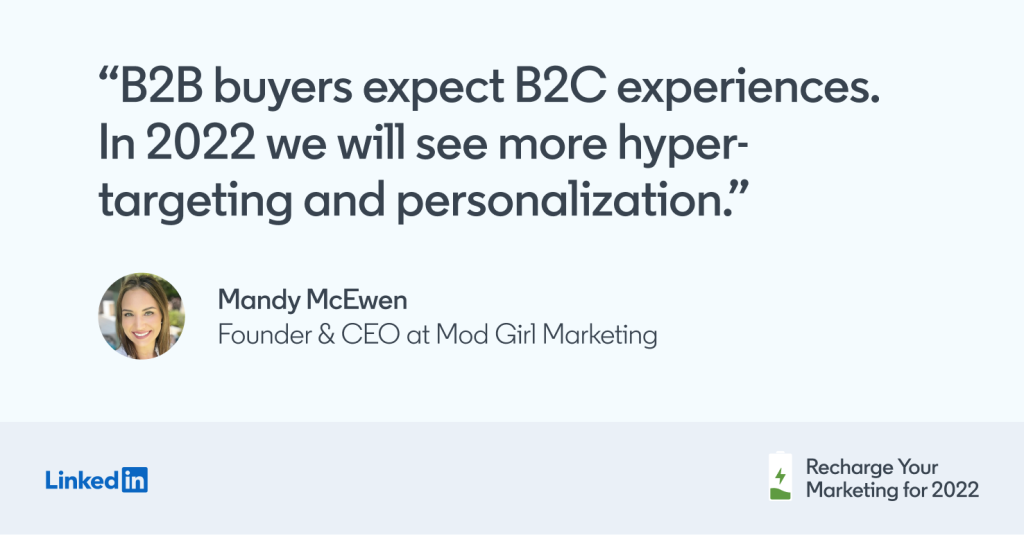 Elevate the "Hidden Benefits" of Your Brand Experience
"We're keeping an eye on the ways that marketers can and should supercharge their marketing messaging by capitalizing on customer experience. So many B2B brands offer amazing resources, onboarding, training, and/or community for their clients, and these are often 'hidden benefits of working with them. Using these experience touchpoints as planks for your digital marketing is a way to both differentiate and also to showcase company ethos." — Zontee Hou
[irp posts="13506″ name="Mandy McEwen Talks LinkedIn on Social Media Marketing Podcast with Michael Stelzner"]
Center Social Media Tactics on Transparency and Trust
"B2B marketing is about creating connections and building trust. Customers want transparency in the businesses they choose to give their money to (B2C + B2B). Marketers who utilize social media platforms (especially through video) to share their values and focus on personalized one-on-one connections (using data from website/social/CRM analytics) can create that trust with their customers." — Shana Bull
Inspire Your Audience With Courage and Creativity
"2022 will bring a convergence between empathy and storytelling, and true creativity in how brands execute on them. It's having an intentional point of view to prove your company understands what matters most to buyers (hint…it's not your product). Using creativity and courage to show up differently, be memorable, and inspire people to act will be at the heart of B2B next year." — Carla Johnson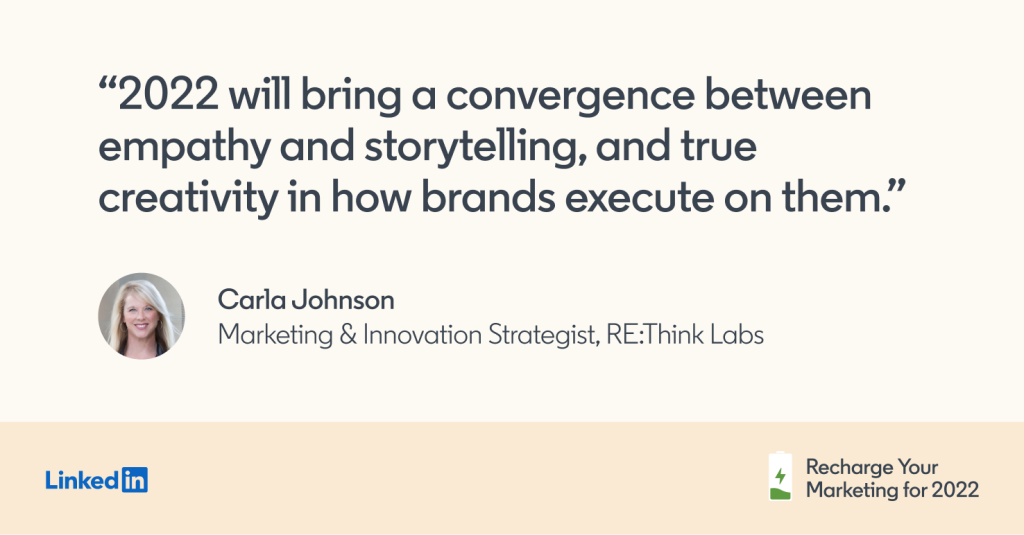 Leverage Machine Learning and AI in Your Data Strategy
"One of the bigger B2B marketing trends of 2022 will be machine learning augmentation of data, especially in CRM, marketing automation, and web analytics. As privacy restrictions get ever tighter, we will need to rely more and more on first-party data and inferred data to generate leads and close deals. The power of machine learning and AI will allow marketers to continue being effective even with less data to work with, for those businesses who take advantage of the technology and have a robust, clean data foundation to build on. For those who do not, they will find themselves at a nearly insurmountable disadvantage; customers will provide less data and competitors will be more nimble with the data they've already stockpiled." — Christopher Penn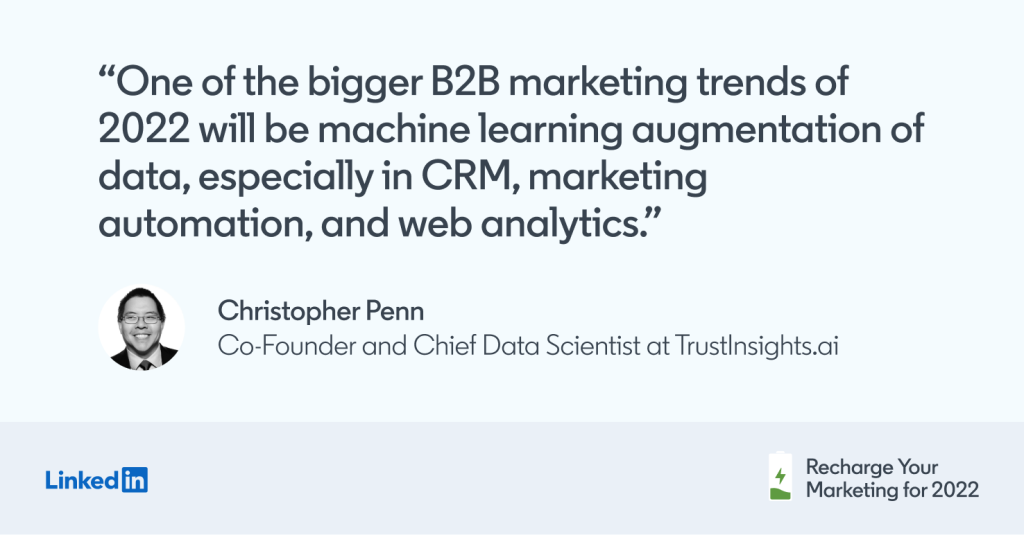 Beware the Hazards of "Attention Intoxication"
"Attention Intoxication — We keep forcing a linear model on a world that doesn't support it. Companies are so scared of being overlooked that they are depending too much on analytics for a process they can't control. They throw spaghetti at the wall which gets them attention but not a seat at the table. To overcome that fear, you have to put analytics in its place, and allow you to focus on the things that will keep you entrenched in the marketplace and lead to meaningful opportunities. Those meaningful opportunities come from increasing share of voice, building a strong base, and embracing dark social. We have built an ecosystem around what we can control because it is measurable and efficient, not because it's meaningful or effective. The new era of marketing will be a radical act. Hopefully beginning in 2022." — Shama Hyder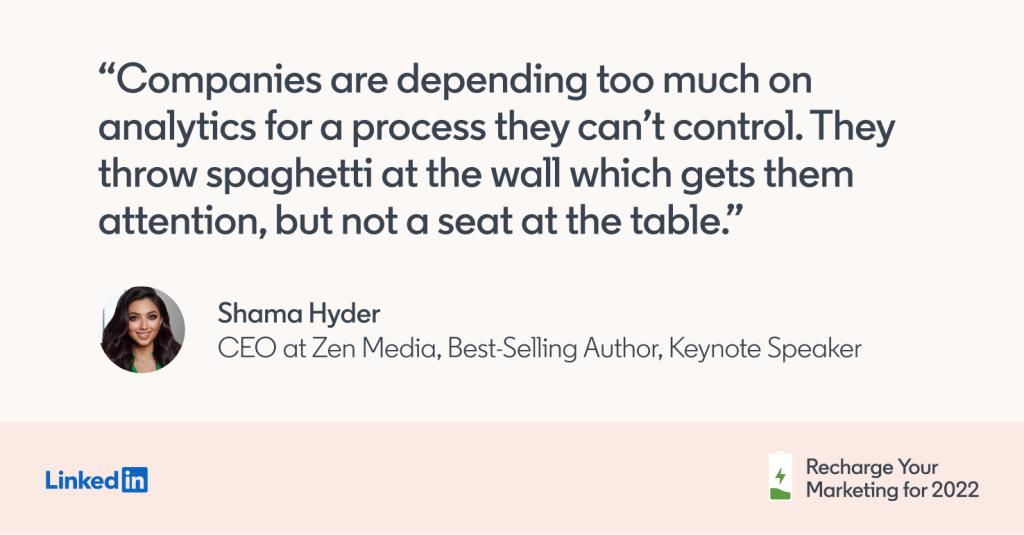 This blog was originally shared on The LinkedIn Marketing Blog.
Tags:
2022 Marketing Trends
,
b2b marketing
,
B2B Marketing Trends
,
LinkedIn Marketing
,
marketing trends